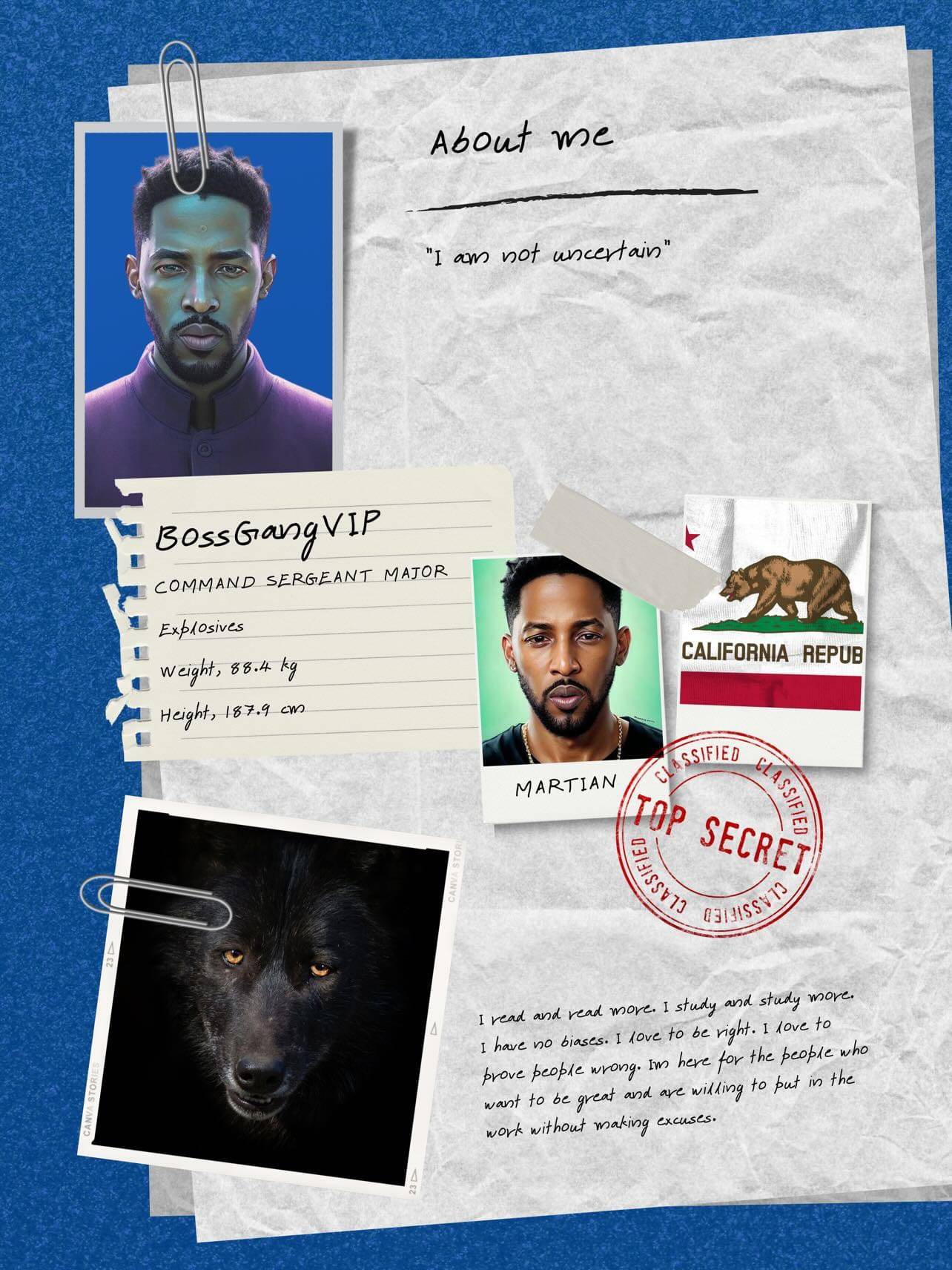 BossGangVIP
🐺 Pack Leader
Max Capital aka BossGangVIP
"I am not uncertain"
Alpha Pack Leader
Los Angeles, California
Music Producer
I've been a hustler for as long as long as I can remember.
Ive done everything from selling candy in school, cutting the neighbors yards, walking dogs and delivering groceries to fixing bikes and singing for U.S. Presidents.
I love to trade stocks. I love to learn.
I read and read more. I study and study more. I have no biases. I love to be right. I love to prove people wrong. Im here for the people who want to be great and are willing to put in the work without making excuses.
Let's Hunt!!!!🐺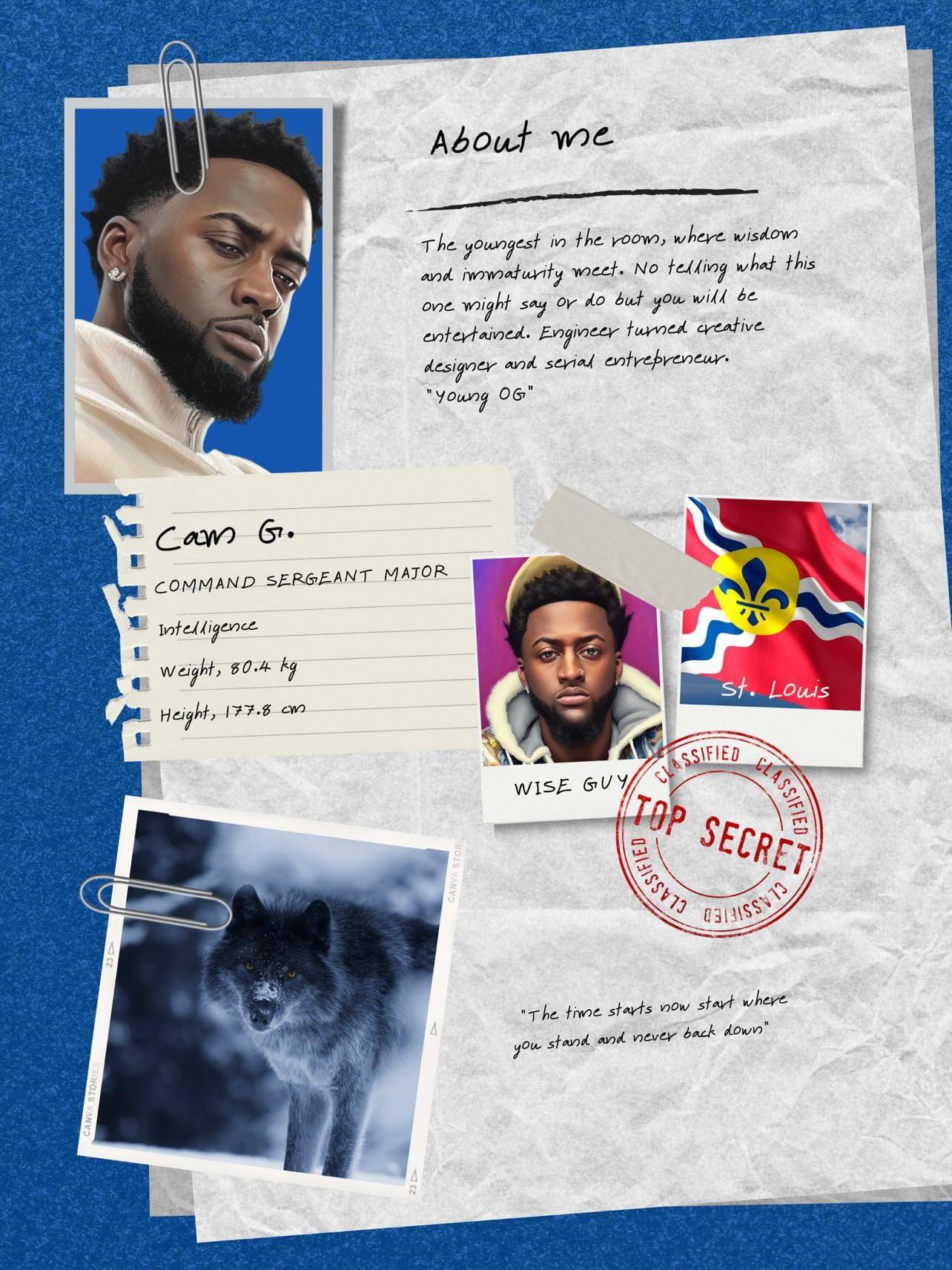 CamG
🐺 Pack Leader
Wassup Family,
I'm CamG one of the Pack Leaders here at ALPHA PACK TRADING GROUP. I'm 24 and based out of Dallas, TX but orignally from St. Louis,MO. I went to the University of Texas as a Civil Engineer with a minor in Business Marketing. I have 2 beautiful daughters. Been investing since I was in 8th grade but started trading options exactly a year ago. Serial Entrepreneur and Graphic Designer. Looking to be retired by 30. Ready to work and just help as much as I can.
If you got questions or anything just hit me on Instagram @wealthy.soon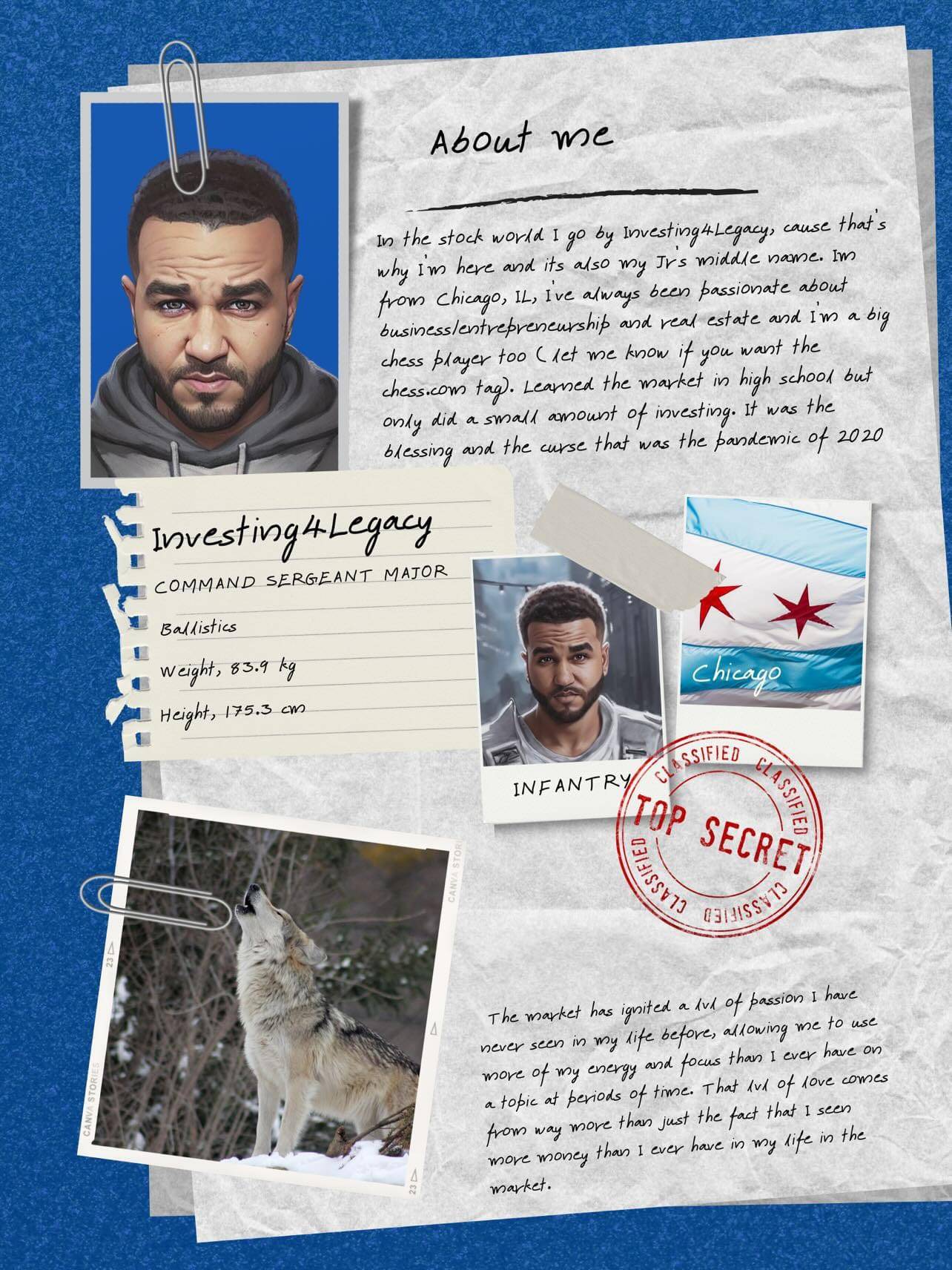 Investing4Legacy
🐺 Pack Leader
Yo Whats up fam,
In the stock world I go by Investing4Legacy, cause that's why I'm here and its also my Jr's middle name. Im from Chicago, IL, I'm a soon to be husband and father of one. I've always been passionate about business/entrepreneurship and real estate and I'm a big chess player too ( let me know if you want the chess.com tag). Learned the market in high school but only did a small amount of investing. It was the blessing and the curse that was the pandemic of 2020 that gave me the time I needed to focus on the market and I was able to learn its true power. I mentioned other passions in my life but the market has ignited a lvl of passion I have never seen in my life before, allowing me to use more of my energy and focus than I ever have on a topic at periods of time. That lvl of love comes from way more than just the fact that I seen more money than I ever have in my life in the market. The market mixes my passion/interest for business and real estate and makes me be able to profit from life's real events in those industries. I also believe finding your edge in the market is the ultimate freedom in this world because its the best way to determine what you know you are worth is and not settling for what another man think you are worth an hr! I don't claim to be a master of the market yet (only about 4k+ hrs into my trading career out of the 10k they say it takes to master anything but adding fast!) at all but I will share my lessons, give facts about the market, give provide solid plays (reversals, breaks of key lvls with volume + market strength behind it, bounces on key support/resistance lvls, you will learn the rest of the pack tricks not overtrading, etc), and share this love/passion/energy for the market that I'm sure most of you can relate to. Lets HUNT PACK!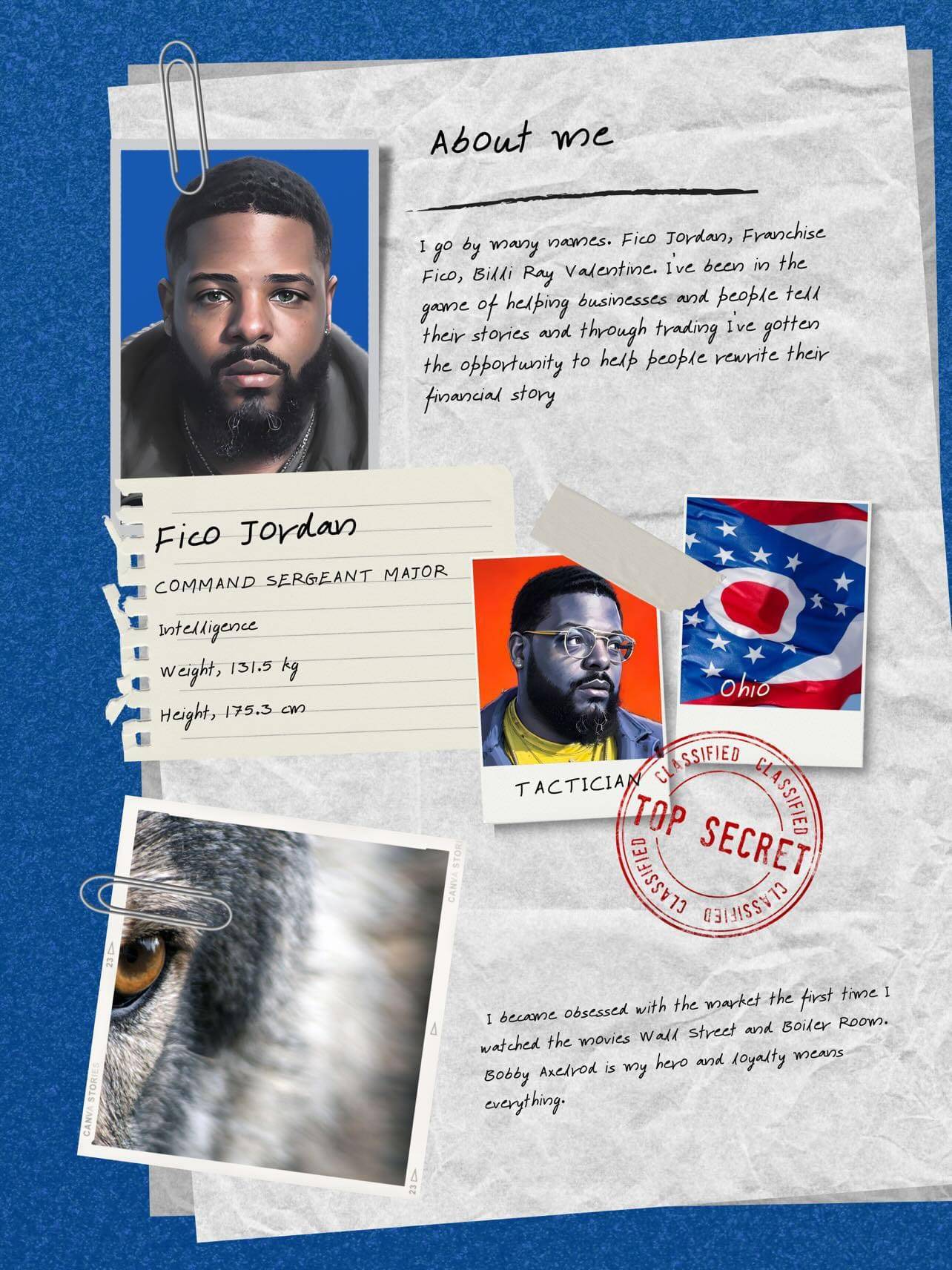 Fico Jordan
🐺 Pack Leader
What up, what up family!
I go by many names. Fico Jordan, Franchise Fico, Billi Ray Valentine. I'm an Alpha Pack Leader fresh out of Columbus, OH. Visual Story Teller by trade, I own and operate a company called LegaStory and regional marketing agency named Crowd Creative. I've been in the game of helping businesses and people tell their stories and through trading I've gotten the opportunity to help people rewrite their financial story. I love this game because it's a team sport and in our pack, we thrive when everyone eats. I became obsessed with the market the first time I watched the movies Wall Street and Boiler Room. Bobby Axelrod is my hero and loyalty means everything. I'm here to put in the work with you, and I can't wait to celebrate all of your wins.
Time to eat!!! 🐺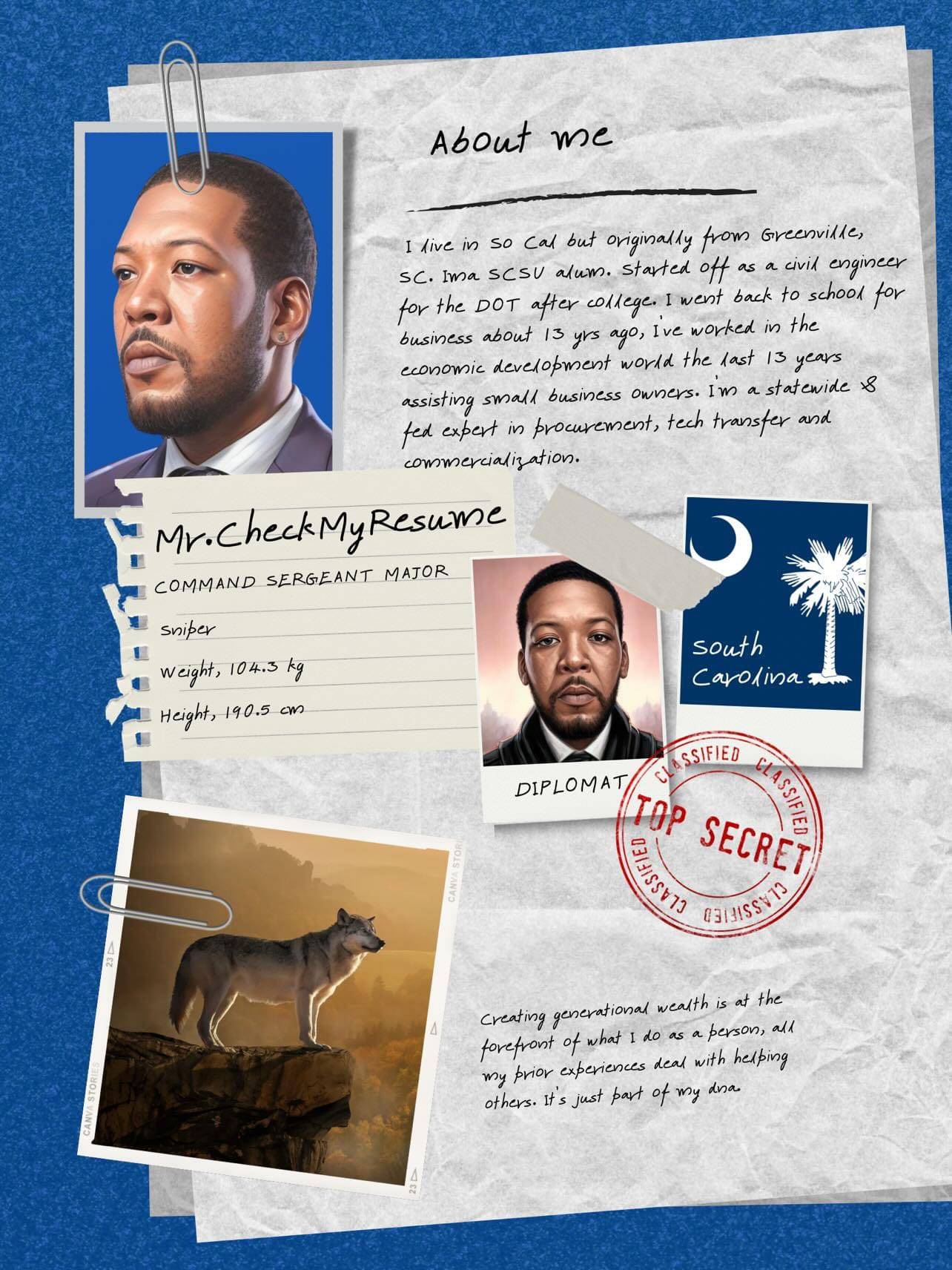 MrCheckMyResume
🐺 Pack Leader
Yo yo Fam,
I'm MrCheckMyResume, aka Earl aka Gap Fill Jackson. I live in So Cal but originally from Greenville, SC. Ima SCSU alum. Started off as a civil engineer for the DOT after college. I went back to school for business about 13 yrs ago, I've worked in the economic development world the last 13 years assisting small business owners. I'm a statewide & fed expert in procurement, tech transfer and commercialization. I started investing a couple years ago and really got into options trading last February. Discovered options as a new passion of mine and found this as a way to close the wealth gap by teaching our community how to bring in additional income through options trading and investing overall. Ima husband and father of 3, I do this because I want to do my part in helping others as well as myself close the wealth gap. Creating generational wealth is at the forefront of what I do as a person, all my prior experiences deal with helping others. It's just part of my dna.
If you have questions related to stocks or business get at me. I'm happy to help!